Winning Awards
Congratulations Emma Clarke
First Overall for RCVS Diploma in Veterinary Nursing Northern Ireland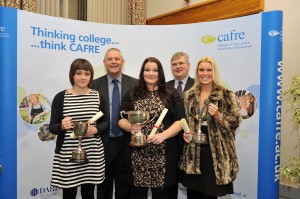 Greenmount Veterinary Nursing Cup Winners: Catherine Davey (Belfast), Karen Horner (Belfast) and Emma Clarke (Hillsborough) showing off their cups at a recent Awards Ceremony at Greenmount. Also included are Dr Sam Kennedy Head of Education Service and Dr Michael Mullan Head of Agriculture Education Branch at CAFRE.
Veterinary nurses celebrate in style
By
Kathleen Rowley
on November 18, 2013
In the fourth ceremony of its type, more than 30 students received various awards in Animal Nursing and Veterinary Nursing at the College of Agriculture, Food and Rural Enterprise's (CAFRE) Greenmount Campus recently.
The college is the only centre in Northern Ireland to offer the veterinary nursing course approved by the Royal College of Veterinary Surgeons and competition for places is high.
Dr Sam Kennedy, head of education service, paid tribute to the dedication shown by the students on these programmes saying that he had seldom come across more committed students. Many students travel considerable distances to attend their classes and their attendance records are exemplary. Several among them have to balance substantial family commitments or had even given up professional careers to retrain as veterinary nurses.
Karen Horner from Belfast was first overall on the animal nursing assistant programme and received the veterinary surgeon's supply company cup. Catherine Davey also from Belfast was first overall on the Level 2 programme and received the Merial Cup. Emma Clarke from Hillsborough was first overall on the Level 3 programme and received the Norbrook Cup.
---
---
Congratulations Shauna Whelan Student Veterinary Nurse of the Year
Northern Ireland Veterinary Nurse of the Year 2012

The winners of the BVNA Northern Ireland Vet Nurse of the Year award have now been announced. This year, some great nominations have resulted in a tough task for judges deciding on the winners in each of the four categories. The event, supported by Hill's Pet Nutrition is now in its fifth year and was initiated to help veterinary nurses receive wider recognition of their work. The quality of the nominations reflects growing appreciation of the tremendous efforts nurses put into caring for their patients and animals in the wider community.

Shauna Whelan, NI Student Veterinary Nurse of the Year

Knowing your pet is in safe hands means a lot to a pet owner, so Shauna's efforts to show that she cares are greatly appreciated by clients. As one couple put it, "We have witnessed her talk openly and lovingly to the animals in her care in front of owners and then still continue when the owner leaves the premises." As well as applying 'best practice' levels of skill, Shauna is also a great team worker for whom nothing is too much
trouble. She was praised for her 'outstanding personality, personal integrity and thoughtful outlook.'
Pamela Dickinson, NI Veterinary Nurse of the Year
Maggie Murphy, NI Charity Veterinary Nurse of the Year
Allison Anderson, ANA of the Year
Speaking on behalf of the sponsors, Hill's Pet Nutrition, Susie Turner thanked everyone involved with the event and congratulated the winners, "As ever, I've felt humbled by the efforts of veterinary nurses to care for their patients and animals in the wider community. Everyone at Hill's is proud to be associated with this event and to support the veterinary community in Northern Ireland."